Sojet EIfin I Online Use Inkjet Printer
Sojet EIfin I Online Use Inkjet Printer
Date coding machine EIfin first inkjet printer from Raymond

--Smart Ink: Automatical detection of remaining ink volume.

--High Resolution: High resolution up to 600DPI.
--Variable Barcode: Variable barcode printing supported.
--Connect to external data source: Through port of USB, Ethernet and RS232, printer can integrate with the external
data.
--Smart Detection: Smart detection of external devices.
--Vector Font Editor: Multi-fonts editing supported.
--Database support: PC software supports the timely printing of data of MS Excel, MS Access,SQL etc...
--5 inch LCD touch screen: 5inch 800*480 color LCD touch screen.
Product picture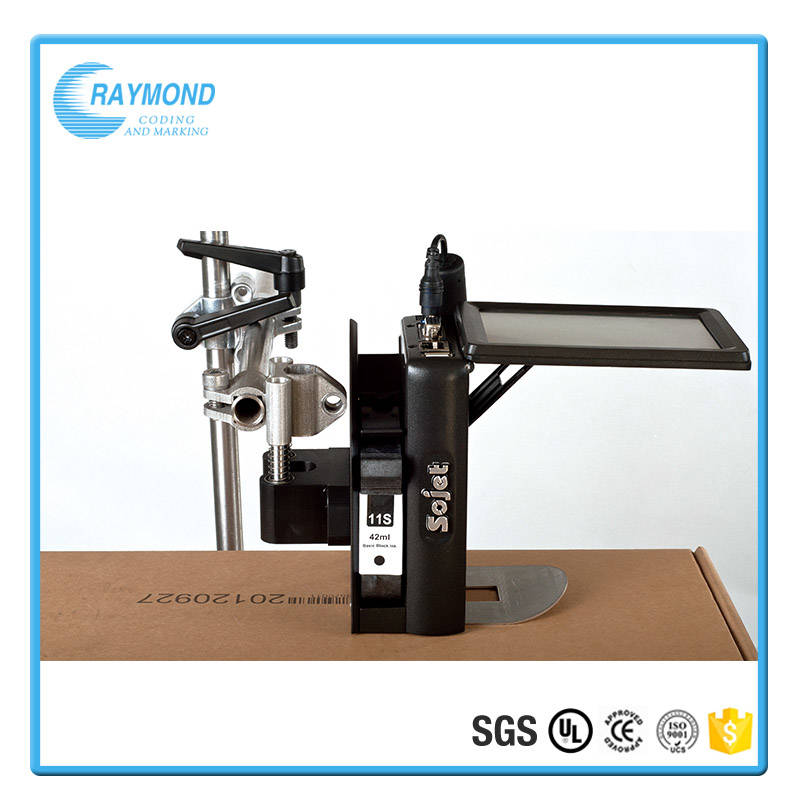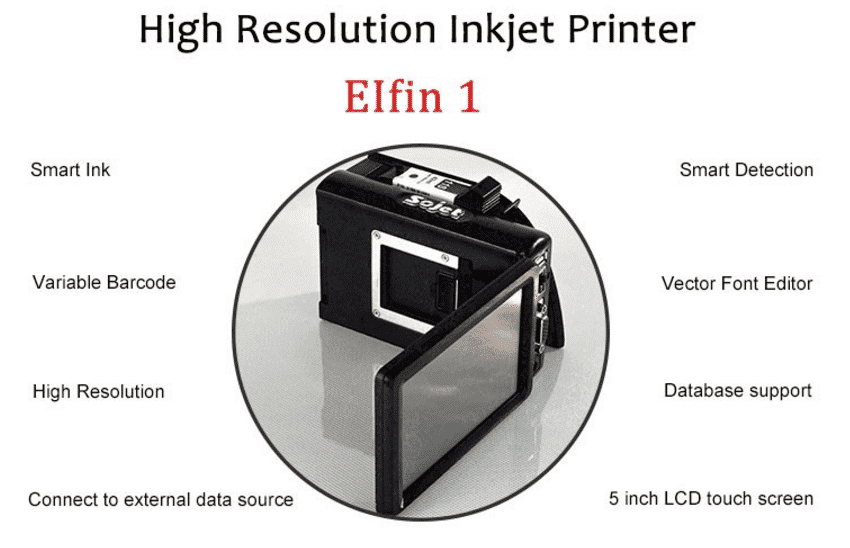 Features
--Selectable Languages: Chinese, English, Japanese, French, German, Spanish, Portuguese and Russian.
--Fonts: Default font is Arial, allows users to load the fonts they need.
--Barcodes: UPCA, UPCE, EAN13, EAN8, INT25, CODE39, CODE128, ENA 128, PDF417, DATAMATRIX, QR.
--Date format: Variety of date modes available (Production Date, Use by Date, Expiration Date, etc).
--Counters: Flexible setting for serial number, Lot-Box code counters.
--Print Speed: Print speed can be set, auto-measuring or using external synchronizer.
--Multi-Management: Multi-level password protection (Operator, Technician and Administrator).
--Support external database through PC software: MS Excel, MS Access, SQL.
--Support data source from printer: Provide standard RS-232, Ethernet port and USB port, simplify
the integration for customers.
Ink Solutions
1) Support 42ml, 370ml and 350ml cartridges of HP TIJ2.5 technology.
2) Support various colors of ink: black, red, green, blue.
3) Support Porous, semi-porous and non-porous materials.
EIfin I
Mounting
Standard side, downside and anti-shock printing bracket;
Port
1) Ethernet: 100Mb/s, Synchronized control of multiple devices via PC; 2) USB2.0: Support U-Disk; 3) DB15: For external devices like photocell, synchronizer or alarm kit connection;
Printing Objects
Barcodes, Character, Numeric, Logos, Date/Time, Expiry Date, Shift Code, Counter, Lot-Box Code;
Interface
1) 5inch 800*480 color LCD touch screen; 2) 90 degree flip-screen design
Ink management
1) Automatically recognize the ink types, and identify the optimum printing parameters; 2) Guarantee of using genuine original HP ink; 3) Automatic measuring system for the usage of the ink
Top