X
Returning Customer
I am a returning customer
Your Account Has Been Created!
Congratulations! Your new account has been successfully created!
You can now take advantage of member privileges to enhance your online shopping experience with us.
If you have ANY questions about the operation of this online shop, please e-mail the store owner.
A confirmation has been sent to the provided e-mail address. If you have not received it within the hour, please contact us.
Account Logout
You have been logged off your account. It is now safe to leave the computer.
Your shopping cart has been saved, the items inside it will be restored whenever you log back into your account.
HandJet EBS 260 Large Character InkJet printing(LCP) in stock

Our new product is a portable, handheld, ultra compact and light INK-JET printer equipped with an electromagnetic valve-based print head, a battery and wireless control. This unique device weighing only 1580 grams has been developed for the users who use the freedom of marking, coding and labeling of their products at any place and at any time as the major criterion of choice. This device is also for the users who show a high demand for cost effectiveness and operating efficiency and as the same time very excessive demand for extended utility functions. The HANDJET® EBS-260 printer offers all basic capabilities typical of INK-JET printers.
Owing to the patented printing technology employed by it, the HANDJET® EBS-260 printer replaces obsolete handheld coding devices (such as stencil duplicators, ink roll coding devices, which are both labor-intensive and costly in use and also problematic for ink inefficiency reasons).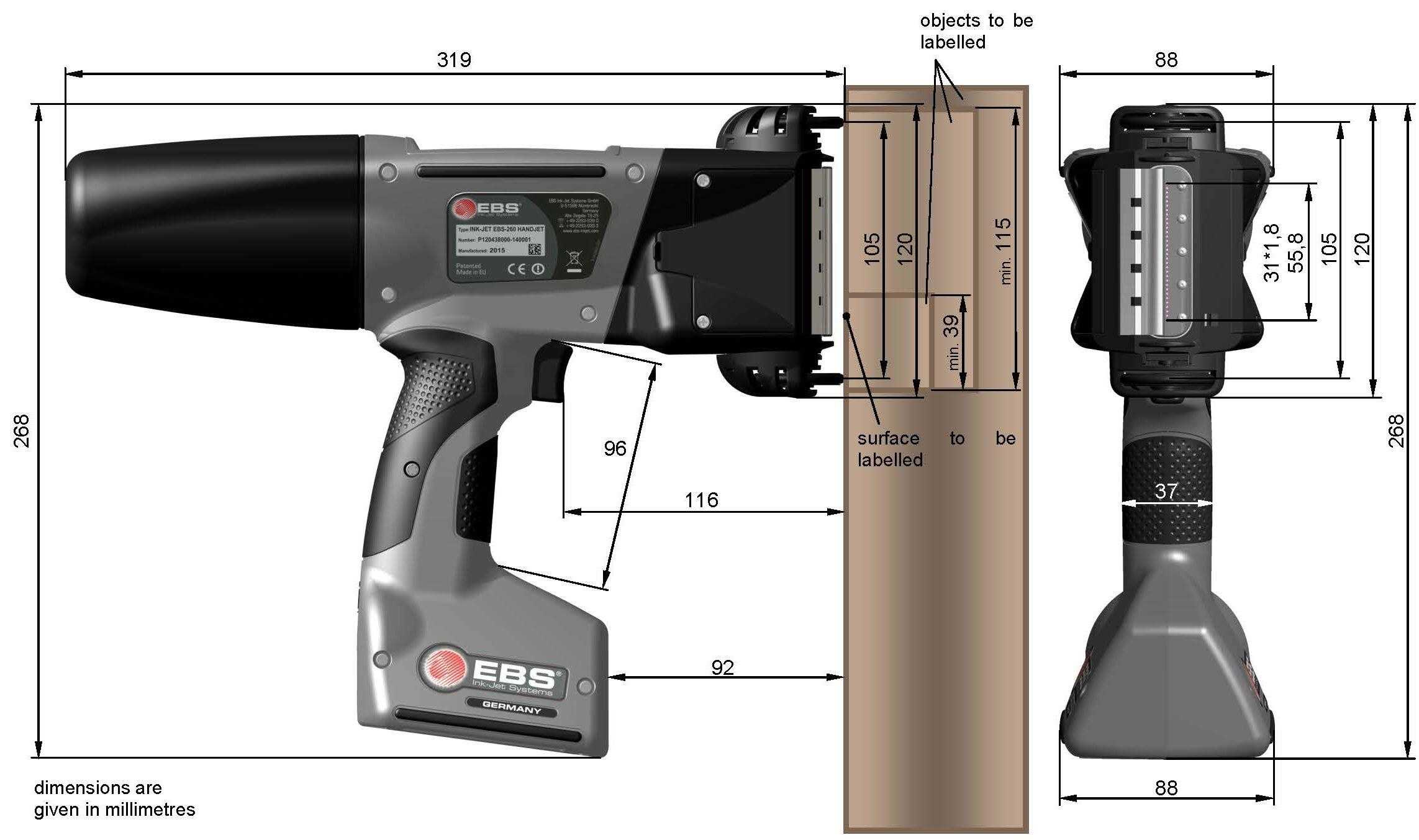 SPECIFICATIONS
Touch-Screen: Color display, hardened glass; 3.54" (9cm diagonal)
Nozzles: 32
Nozzle diameter: 150 μm, optional 200 μm und 120 μm
Print image height: .276" - 2.2" (7 - 56 mm)
Minimum size of printed object: 1.57" (40 mm)
Working position: Any angle
Printer memory: 2 Gigabyte
Printing: Enables printing of multiple texts in successive lines Memory blocks for projects:> 50,000 projects with up to 10,000 characters each
Graphics: Black & white PNG data can be imported (up to 32 dots in height)
TrueType Fonts installable: Yes
Special characters: National (diacritical) characters and graphics
Variable fields: Date, time in any format; expiration date; ascending/descending sequential numbers; universal counter
Timing: Synchronized with rotational speed of the lower stabilizer or at intervals by an internal generator
Programming: Via the built-in touch-screen, on the website of the specific unit using the Firefox browser, or via offline editor (included)
Special Function: Laser guidance for message positioning; automatic measuring of print area on objects
Optional special functions: Master-Slave Bluetooth connection with input devices such as: scanner, Database functions, php-script administration
Power supply: External power supply; 24V, 1.25A
Operating time: Up to 16 hours operation with fully-charged battery at 68°F (20°C); automatic low-battery indicator
Recharging: Uses an external 24V, 1.25A DC power pack
Ink: Cartridges; ethanol-, acetone- or MEK-based in various colors (to be specified when ordering)
Cartridge capacity: 6.7 ounces (200 ml); prints approx. 200,000, 7x5 dot-matrix characters
Internal working pressure: 4.4 to 5.8 psi (0.3 to 0.4 bar) Operating temp: 41 °F to 104°F (5°C to 40°C)
Storage temp: 32°F to 113°F (0°C to 45°C)-water-based ink;
14°F to 113°F (-1 o·c to 45°C) - solvent based ink
Humidity: Up to 90% non-condensing
Weight: 3.64 lbs (1.65 kg) with ink cartridge
Properties:
making durable and legible prints on a variety of types of surface, smooth, porous and also uneven surfaces of irregular shapes, such as pipes, barrels, bags, boxes, construction materials, elastic materials,

non-contact marking (printing) technology, with only one drive roll requiring contact in order to synchronize printing,


full freedom of printing offered by the portable, manual printer which is controlled in a non-contact way,


project import and export via a USB port,


wireless data transfer from a computer and from external devices,


automatic update of the date and time, service life/period of storage/expiry date, object numbers (via incremental or decremental counters), kody 1D & 2D code, data from external devices,


the possibility of editing and printing texts and graphics symbols with the use of Windows® (True Type) fonts as standard,


the availability of diacritical national characters, Chinese characters, Cyrillic and graphics characters (a set of manufacturer-defined characters) for information, warning, handling or other purposes as standard,


supporting printing of various texts on successive lines or on various object sides,


working with any PC via Firefox®; wireless printer-computer communications via WiFi,


interactions with an external device to receive data from; wireless printer-device communications via Bluetooth.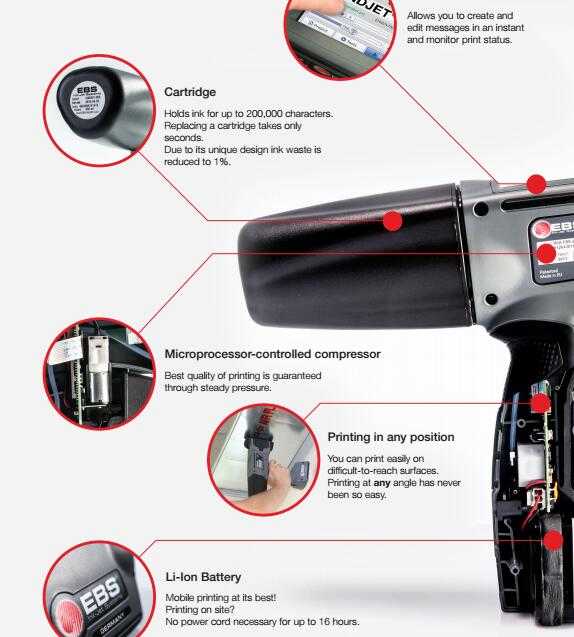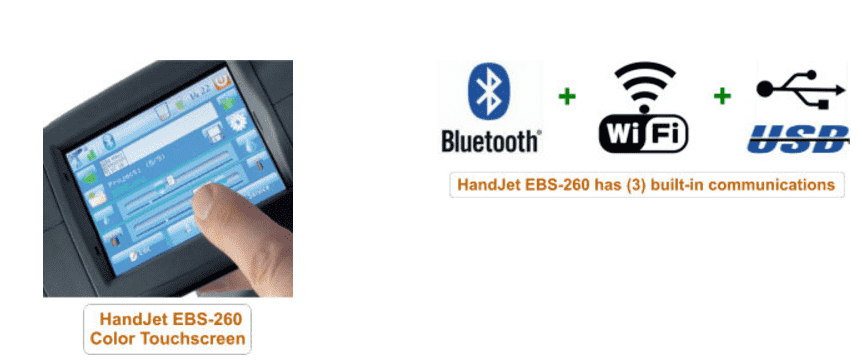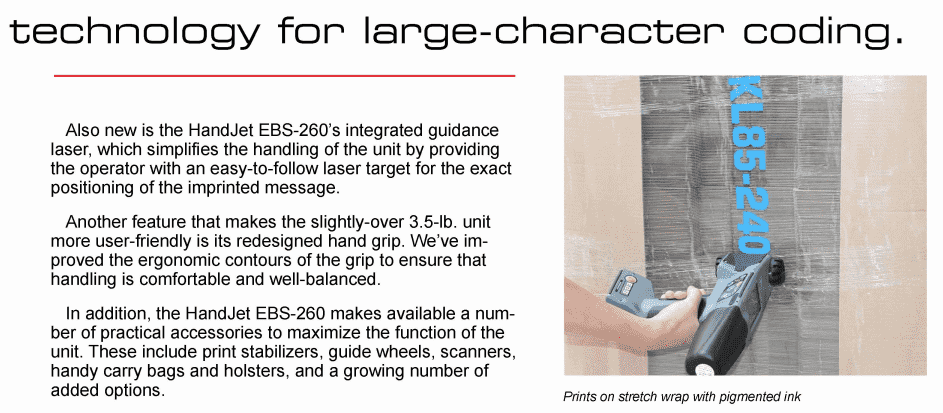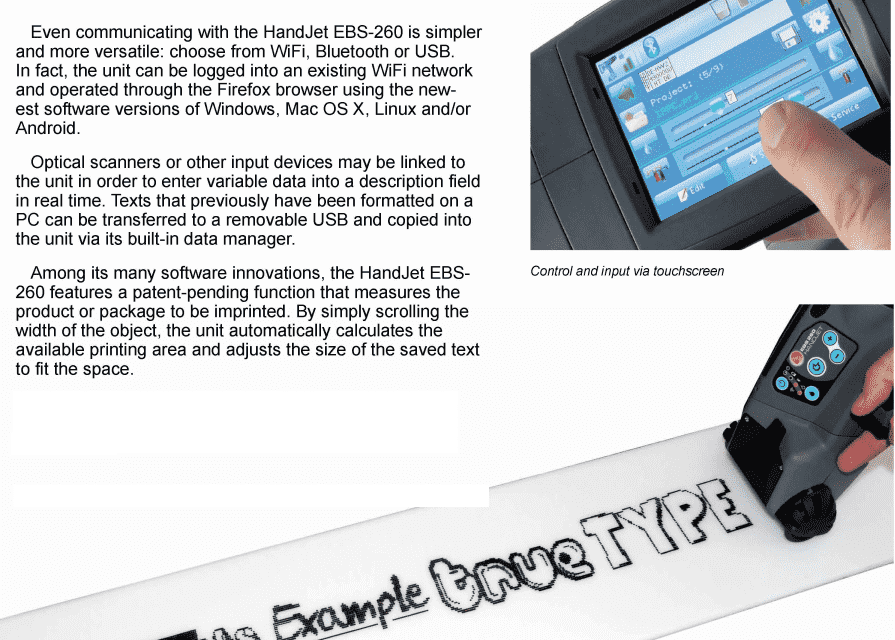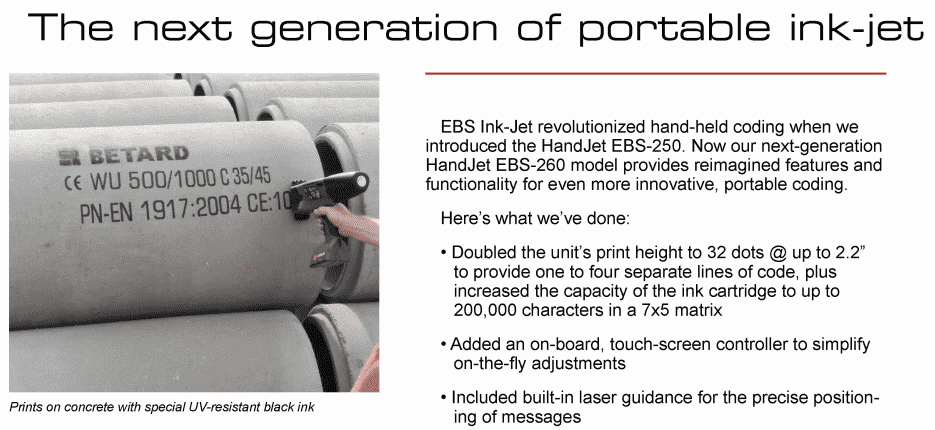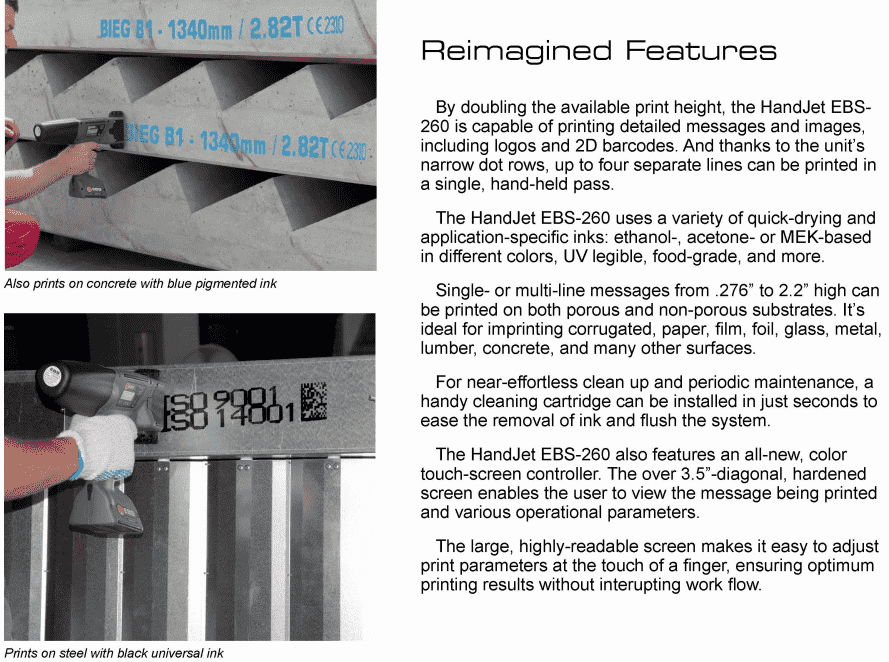 The EBS-260 HandJet can be utilized in a wide variety of Product and Package Marking Applications:
Optional Stabilizers may be required to acheive optimal Imprinting on Curved Surfaces!
Utilize the EBS-260 HandJet for InkJet Coding on Concrete Pipe Product Marking, PVC Pipe or Tubes and Steel Building Materials or packaging. Textiles and Upholstery products can now be marked legiably.

Utilize the EBS-260 HandJet for InkJet Coding in the Timber Industry on Wooden Tree Trunks, or to code Wooden Shipping Crates, imprints for traceability in warehousing and when the product marking is to be imprinted on curved containers such as paperboard cores and mammouth sized items anywhere.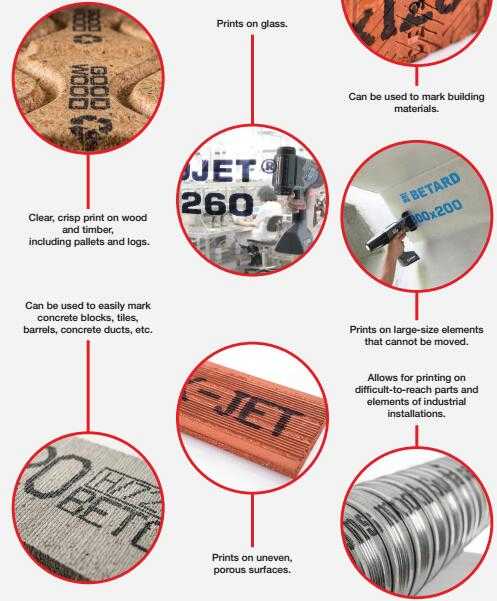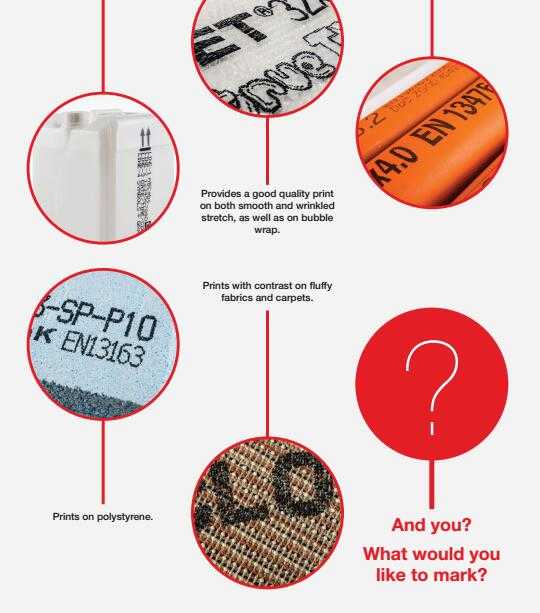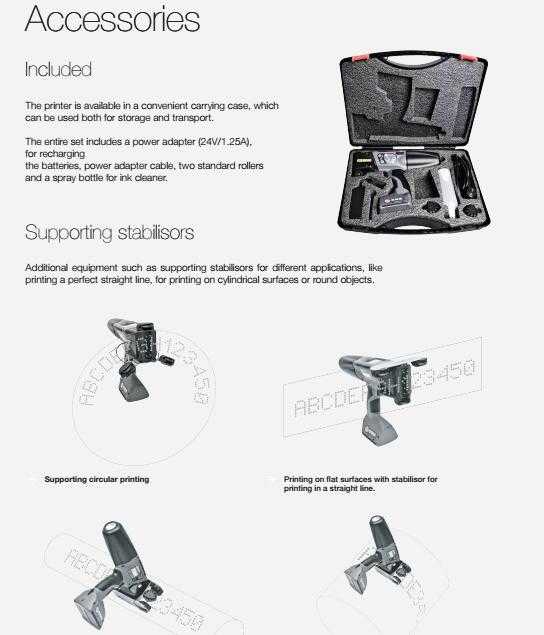 Dimensions: 8.75"(w) x 10.04"(h) x 2.90" (thick)
Shipping Weight: 12 lbs

HandJet Weight: approx. 2.5 lbs