TL200 Digital Inkjet Batch Code Printing Machine
TL200 Digital Inkjet Batch Code Printing Machine
Brand:
raymond
Product Code:
TL200
Availability:
999
Call for Price
TL200 Digital Inkjet Batch Code Printing Machine
5
4
digital inkjet batch egg code printing machine
--TL200 (abbr N-II) is developed based on HP TIJ 2.5 technology which is high resolution, high speed printing inkjet system, the max speed can reach 304m/min, can support different package, printing production line, can print text, numbers, date, barcode, photos and so on.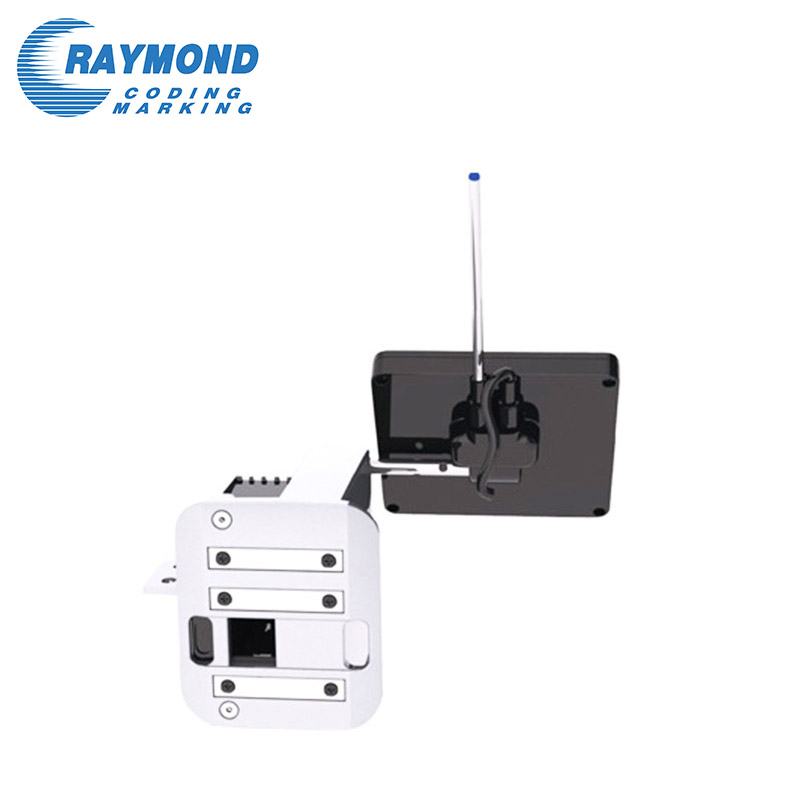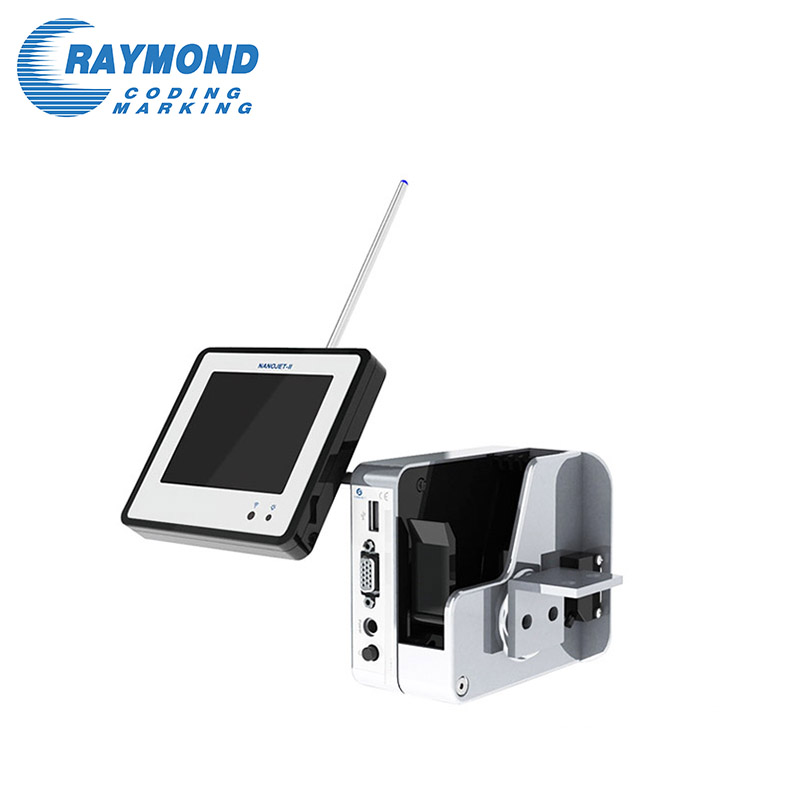 Advanced Capabilities
1. Based on HP TIJ 2.5 technology, one printhead is 12.7mm width, zero maintenance.
2. Printing resolution as high as 600DPI , can satisfy your qualified demands.
3. Creative high speed printing tech, max speed can reach 304 m/min.
4. Visiable online editing system, any modification, shift, addition, cancellation ,and size adjustment are all available on the printer directly, independent from computer.
5. Super file management system, save the latest printing file in the printer automatically. Don't worry about looking for files any more.
6. Humanized software, printing lines and content will be not limited, compare with traditional inkjet printer.
7. Can realize variable text, counters, and database printing.
8. Various certified ink can be used, can print on media like paper, carton, PVC, plastic, glass and metal.
9. Display screen separate from main printer, can installed anywhere you want, and the screen can be rotated when installed into printer.
10. With three-colored warning light, ensure operators get the printer working status anytime.
11. Small in size,optional hand shank,flexible operation and competitive price.
Printing Objects
1. Support any language character, image, numeric, Special symbol, static barcode, dynamic date & text, sequence number, etc.
2. Support bitmap fonts, which can save cost for enterprises.
3. support multiple texts, pictures and dates.
4. Printing high-definition content with high resolution and high quality.
Printing Applications
NANOJET-II packaging inkjet is mainly used in packaging to print production date, staff numbers,product labels, etc. Specific application are as below:
A. Food Industry (such as outer paper packaging of mineral water bottle, outer carton packaging of drinks, wine bottles, cookies and packed food etc.).
B. Building Materials Industry (print on various density board, joinery board, solid board, asbestos board, wood floor, etc.).
C. Other industries( print on paper label of bottle, such as wine bottle, medicine bottle, and packaging boxes of top-quality product).
Software Features
1. Assembled software can edit printing objects with powerful functions and simple operation.
2. Built-in Basic Characters, images, dates, counters and so on, user can choose different styles based on their requirement.
3. Compatible with all language characters so long as the operation system supports the characters.
4. Support editing function of rotating and scaling.
Reliable HP TIJ 2.5 Technology
The Micron runs with 1 HP print cartridge allowing a print height of 12,7 mm.
Print in 300 DPI at 76 m/min or 150 DPI at 152 m/min.
The horizontal DPI resolution is variable from 75 to 600 DPI.
How to choose suitable machine for your works:
Q1: How to select a suitable inkjet coder?
A: Please consider that printing height, printing lines, printing speed, printing content (language, characters, number, barcode, QR code etc.)
Q2: How to select suitable ink?
A: Please consider fast dry ink for plastic, glass, metal, glossy paper etc,;consider normal ink on normal paper and carton; consider UV ink for anti-counterfeiting.
Q3: Can use on production conveyor?
A: Yes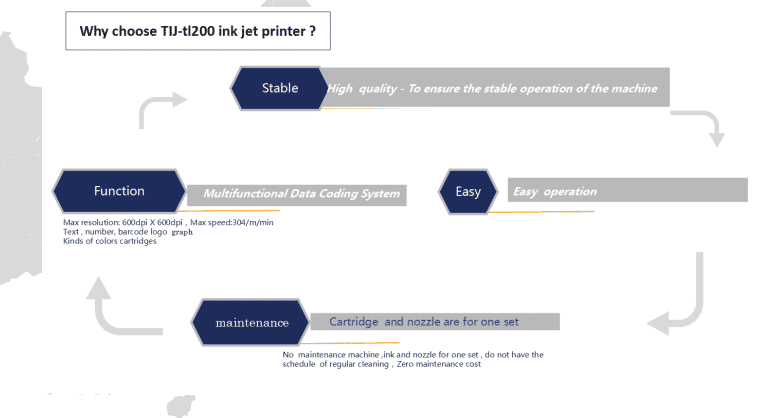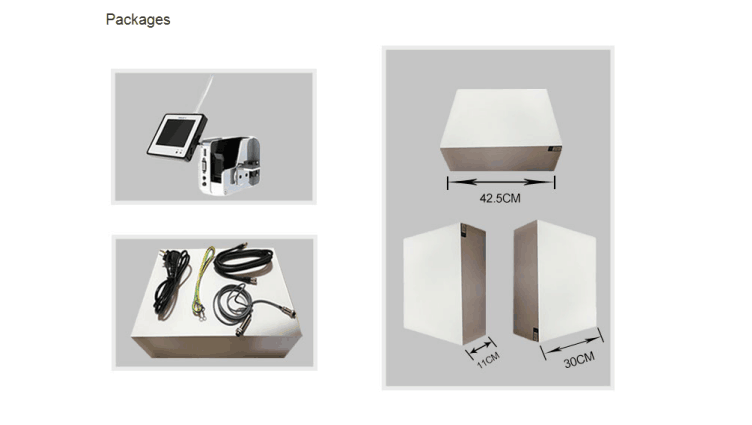 Packing Specification
Product packing specification
425*300*110mm
TL200
Static object
Texts, numbers, images, barcodes
Printhead technology
HP TIJ 2.5
Printhead height
0.5inch(12.7mm)
Main engine size
114mm*88mm*103mm(not include the screen)
Connector
USB (for U-DISK)Multifunctional interface(serial port,port for electric sensor, port for display screen)
Printing resolution(max available printing speed)
600×600 dpi (30 m/min) 600×300 dpi (60 m/min) 600×150 dpi (120 m/min) 300×600 dpi (30 m/min) 300×300 dpi (60 m/min) 300×150 dpi (120 m/min) 300×600 dpi(High speed)(60 m/min) 300×300 dpi(High speed)(120 m/min) 300×150 dpi(High speed)(304 m/min)
Ink-supply system
Loogal's specific ink cartridge ,big ink bag
Sensor
Support many kinds of External sensor(NPN sensor ,contact sensor)
Synchronizer
Support input of fixed speed and 300PPI (standard)
Power requirement
100-240VAC 50/60Hz Power :90W
Working environment
Temperature 10℃~35℃,Humidity 10%~80%
Storage environment
Temperature -15℃~85℃,Humidity 5%~95%,No condensation environment
Software Technical Parameters
Edit contents such as character, barcode, image and so on. Use U-DISK for data storage dispense with PC when printing
Operating system
Windows XP
Dynamic object
Counter, texts, numbers, time
Object quantity
Static objects' quantity is not limited; Dynamic objects max 20 groups.
Length of single page
Mini :5mm , Max:1.2m
Weight
Product Weight
about 5KG
Top